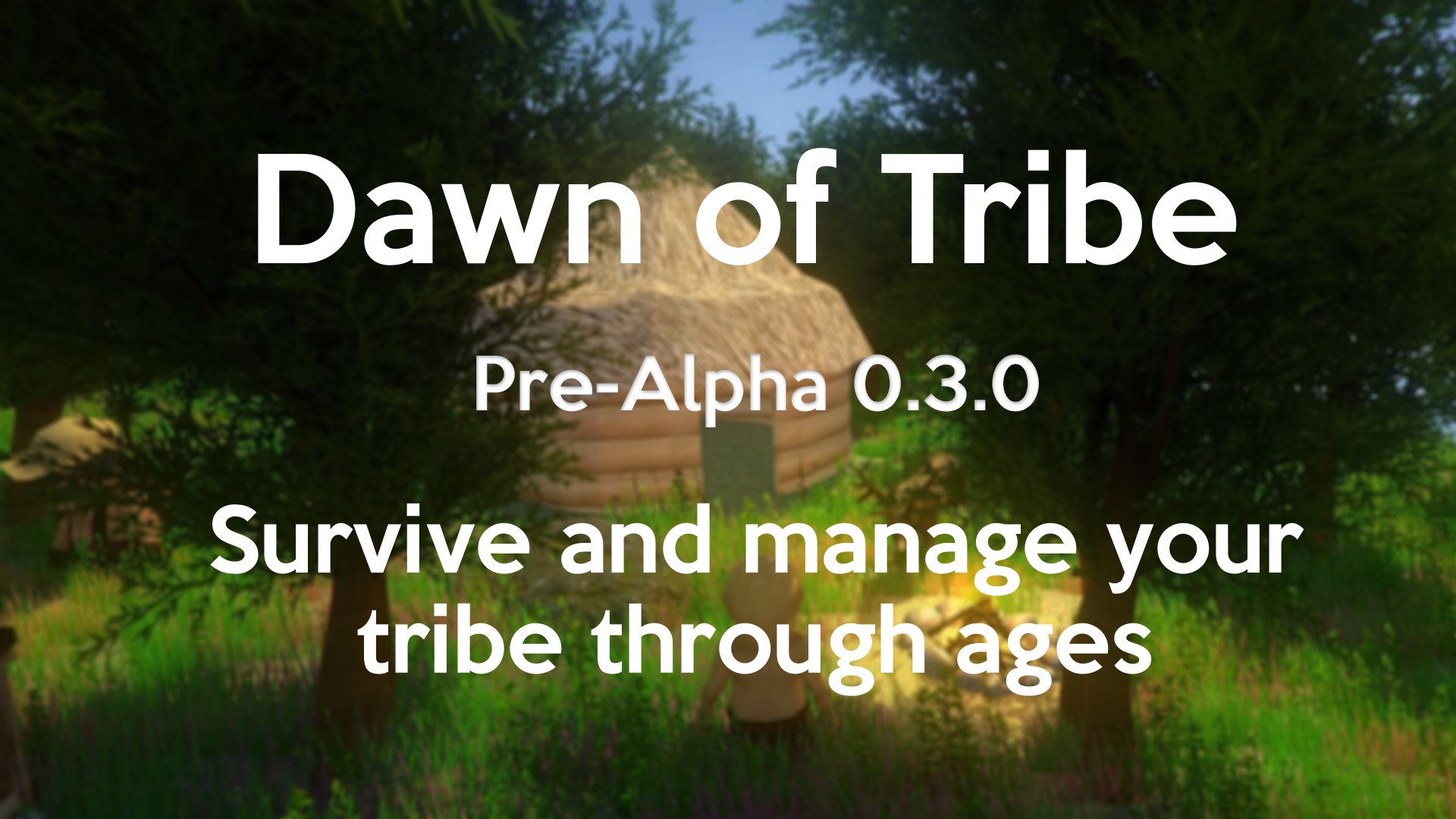 Dawn of Tribe
PRE-ALPHA 0.3.0!!
Survive in a hostile environnement and create the first houses for your tribe. Chop trees, mine stone, hunt animals, craft stone and wooden neolithic tools. Manage your tribe like you would in a city builder and discover new skills, new materials so that you can make your tribe prosper and grow through ages.
Todo List
Evolution through time: 2 months
Artificial intelligence (animals and NPCs): 2 months
Objectives and steps: 1 month
Bugs fixing, last details: 1 month
Time left: 3 months -> I don't think game will be finished at by the end of the year but we'll have a really good prototype!
Done
Survival mechanics: 3 months
Management mechanics: 2 months
I began developping the game the first of January with the challenge in mind of finishing it in 1 year!
About me
As you can guess, I am the only developer working on this game. My name is Sébastien, I'm 15 and started computer programming when I was 7. I've always dreamed of creating my own game, but until now I didn't have the right skills. This game is a challenge for me because I want to prove to myself and others that one person can make a good indie game in 1 year, I work every day and until now, I meet the todo list deadlines ! :)
Working on
I decided an important thing: the game will end at the end of the Middle Ages. After that, the first thing I'm going to do is finish all the 3D models for Antiquity and Middle Ages (3D models for Prehistory are already finished!):
Antiquity:
Tavern, amphitheater, mine
Middle Ages:
Castle, Farm, Building, Shop, cathedral
Download
Click download now to get access to the following files:
Dawn of Tribe 0.3.0 Windows.zip
137 MB
Dawn of Tribe 0.3.0 Mac.zip
151 MB
Dawn of Tribe 0.3.0 Linux.zip
142 MB